De senaste sex åren (2015-2021) har varit spännande, lärorika, utmanande, arbetsamma, prövande, krävande och fantastiska i en fin blandning. Under sex år dvs två mandatperioder har jag varit i EDEN Executive Committee på uppdrag av Svenska Riksorganisationen för Distansutbildning (SVERD). Det har varit ärovärdiga år och ett stort förtroende. Jag vill TACKA SVERD för den möjlgheten, tilliten och för förtroendet. Jag vill också tacka EDEN för möjligheten att få arbeta tillsammans med profesionlla, kompetenta och fantastiska styrelsemedlemmar genom åren och alla medlemmar i EDEN, vad vi brukar kalla EDEN FAMILY, ett professionellt drivande nätverk som gör skillnad. Många gånger krävande arbete och svåra beslut, men också väldigt mycket glädje, skratt och varm samvaro.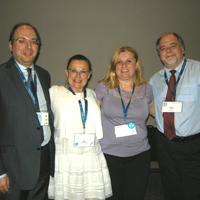 The European Distance and E-Learning Network is the smart network for the professional community and a professional community for smart learning. Established in 1991 as an international educational association and not-for-profit organisation, EDEN is open to institutions and individuals dealing with e-learning, and – more broadly speaking – open and distance education. EDEN exists to share knowledge and improve understanding amongst professionals in distance and e-learning and to promote policy and practice across the whole of Europe and beyond. Läs mer här EDEN Profile as a PDF download here.
År 2015 till EDEN Annual Conference Barcelona var jag nominerad till EDEN Executive Committee på uppdrag av Svenska Riksorganisationen för Distansutbildning (SVERD).  Det fanns två lediga platser i styrelsen och fyra nominerade kandidater. Processen var sådan att på General Assembly fick man 5-7 min att redogöra för vad man ville uppnå och hur man kunde bidra till arbetet och utveckligen av EDEN och dess medlemmar, dvs i korthet varför just rösterna skulle tillfalla oss. Samtliga kandidater hade synnerligen starka profiiler, portföljer och var väl kända inom ccmmunityn. Därefter var det omröstning. Konkurrensen var hård. Jag var en av de två som valdes i hård komnkurrens, vilket var synnerligen hedrande. Åren därefter har det däremot enbart funnits så många kandidater som lediga poster i styrelsen. 2019 blev jag omvald för en andra period (man kan inneha uppdraget högst 6 år).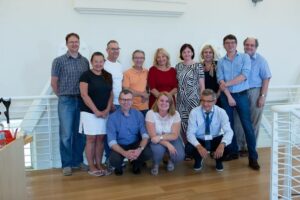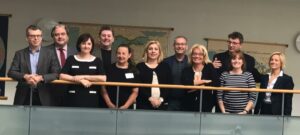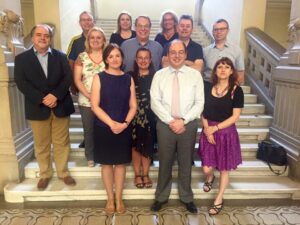 Jag har följt och varit aktiv i EDEN sedan år 2000 då jag började arbeta inom detta område vid Lunds universitet, Sekretariatet för fort -vidafeutbildning oxch distansutbildning, Sedan dess har jag även varit medlem i EDEN NAP (EDEN Network of Academics and Professionals (NAP).
The EDEN Network of Academics and Professionals (NAP) supports networking of individual members of the Association and provides a highly effective meeting and communication forum. It enjoys a functional autonomy, is co-ordinated by its own Steering Committee. The Steering Committee is elected by a ballot of NAP members. The Chair of the Steering Committee is traditionally an ex officio member of the EDEN Executive Committee.
År 2011 under EDEN Annual Confernce i Dublin blev jag inominerd och invald i EDEN NAP styrelse. Då jag blev invald i EDEN Executive Committee fick jag lämna EDEN NAP styrelsen. År 2014 blev jag utsedd till EDEN Fellow den tredje i Sverige. Sedan 2018 då EDEN Fellow´s Council inrättades är jag även i kresen för densamma.
The EDEN Senior Fellow title is awarded to outstanding EDEN members, in recognition of their contribution to the development of open, distance and e-learning in Europe and for their valued commitment and support to the evolution and progress of EDEN.

The EDEN Fellow title is an expression of acknowledgement of professional merit by the Association, for NAP members, who have demonstrated excellence in professional practice in the field of flexible and distance learning and provided valued support to the evolution and progress of EDEN.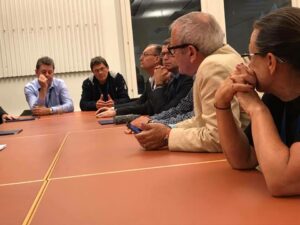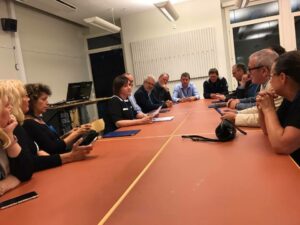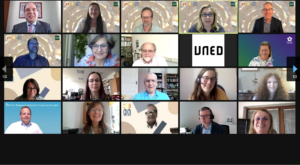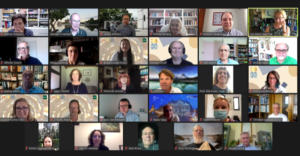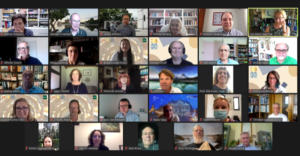 Sedan 2017 ledde jag the EDEN Special Interest Group (SIG) on Technology Enabled Learning (TEL) and Quality Enhancement (QE) vilken officiellt lanserades under EDEN Annual Conference at Jönköping University, Sweden 13-16 June 2017.
EDEN showed its competence and activities in the field of TEL and QE. EDEN hosted a series of four workshops during the conference. The themes were: EDEN's rationale and action plan on the work of launching a SIG on TEL and QE, Renewing the quality agenda, Quality in TEL at micro, meso, and macro levels, and identification of stakeholders, and Innovation for quality leadership
Under min tid i EDEN Executive Committee arbetade jag med tre Presidenter, Antonio Moreira.Teixeira (PT), Airina Volungevičienė (LT) och Sandra Kucina Softic(CRO).
Några axplock av andra aktiviteter:
BREXIT: Sedan 2018 började arbetet med Brexit, då EDEN sedan 30 år har sitt säte vid Open University, UK och eftersom vi har Operational Grants från Kommissionen är det inte möjligt att fortsätta att ha officiell registrering i Storbrittanien. Vi har därför sonderat andra möjligheter och funnet alternativ och har därför etablerat EDEN Digital  Learning Europe med säte i Estonia.
EVENTS:
With more than 180 institutional members and over 1100 members in the Network of Academics and Professionals (NAP), EDEN assists a wide range of institutions, networks, and individuals to become involved in professional information and networking activities. It does so through the organisation of acknowledged European conferences, its publications and information services, and by taking an active role in a wide range of important EU projects. EDEN has also proved successful with thematic activities such as the Open Classroom Working Group (school level distance education), and by contributing to, and promoting, 'cutting edge' research in the field.
De tre senaste konferenserna, har varit online pga pandemin, de två senaste årloga konferenseran  Timisoara (2021) och Madrid (2021), samt Reserch Workshop i Barcelona (2020).
PANDEMIN: I samband med utbrottet av pamndemin införde vi direkt med stor framgåpng  #onlinetogether webinar 
OEW: Sedan 2017 delatr vi regelbundet i Open Educational Week
Några foton från OEW2021, samt statement
EODLW: Årligen ger EDEN Open andf Distance Learnig Week i samverkan med de stora internationella organisationerna. Lite statistik från 2020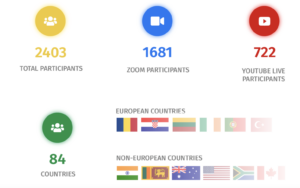 JOURNAL: EDEN has also provided extensive secretarial support to the European Journal of Open, Distance and E-Learning (EURODL). Under det senaste året blev EURODL indexerad cojh administreras av Sciendo
OPEN BADGES: Under min madattid införde vi Open Badge erkännade schema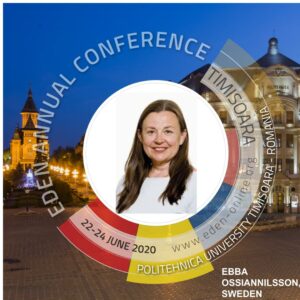 EDEN SIG TEL QE:  EDEN Special Interest Group (SIG) on Technology Enabled Learning (TEL) and Quality Enhancement (QE) (som ovan)
PROJEKT: EDEN deltar regelbundet i EU projekt
EDEN NAP: har redan nämnts ovan