Som tidigare meddelats 25 oktober 2022 är Ebba Ossiannilsson V ordförande Svenska Riksorganisationen för Öppen Flexibel Distansutbildning (Sverd) en av vinnarna för Open Education Awards for Excellence år 2022 i kategorin öppet ledarskap
Läs intervjun ICDE Gjorde med Ebba Ossiannilsson här
In October, OE Global announced the 2022 winners of the Open Education Awards for Excellence. Among the winners this year – presented with the award for Open Leadership – was ICDE Board member from Sweden, Prof. Dr. Ebba Ossiannilsson.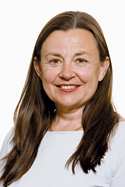 Prof. Dr. Ebba Ossiannilsson
The Open Education Awards for Excellence provide annual recognition to outstanding contributions in Open Education; recognizing exemplary leaders, distinctive Open Educational Resources (OER), and Open Practices from around the world. When Prof. Dr. Ossiannilsson received an email to inform her she had won the prize for Open Leadership, she was both honoured and humbled.

"When I first heard I had won, I was thrilled. International recognition such as this means a lot, but it was also a humbling experience. The other nominees are all excellent candidates, and I truly consider us all winners."

The Open Leadership award is presented to an individual who has demonstrated significant leadership and longstanding involvement with open education. Ebba was commended by the awards committee for her dedication to finding creative ways to overcome adversity with openness, and for demonstrating great national and international leadership.

"For me, good leadership in open education is about facilitating, encouraging, and inspiring the community, but also about equity, inclusion, trust, values, and ethics. I also believe in resilience and agility – with the world changing so rapidly these days, you need to have your eyes open to what is coming around the corner. You also need to believe in and share the values of what you're working on. This is especially true in the field of open education, which is sometimes subject to questioning and hesitation from those who don't understand it."

Ossiannilsson is no newcomer to open education, having worked extensively in the field for over 20 years. She currently holds the position of Vice-President at the Swedish Association for Open, Flexible and Distance Learning (SADE), in addition to working as a researcher, quality reviewer, and consultant.