TechSverige (nuvarande koordinator), bjöd in till ett uppföljningsmöte om utvecklingen av Digital Skills and Jobs plattform Sweden, där SVERD medverkar, vilket ägde rum den 16 mars  2022.
EU-kommissionen informerade om den europiska plattformen för Digital skills and jobs, EU, se screenshots.  Man loggar in i portalen med EU inloggning. Man kan väljer sedan i portalen vad man letar efter. Man kan också testa sin digitala profil.
Efter denna presentation diskuterades också arbetet med den svenska plattformen samt TechSveriges samarbetet med Diplomat Communication för att utveckla och genomföra den svenska portalen.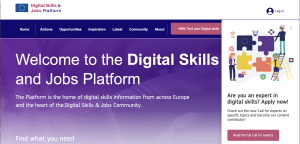 I plattformen kan man:
Engage in Online Discussions on various digital skills themes and topics.

Subscribe to the Digital Skills & Jobs Digest for regular content updates.

Promote your project, activities and initiatives by Contributing Content.

Comment on articles and Share interesting content with your colleagues.

Showcase your organisation, project or platform through Member Profiles.

Receive notifications of updates to content or community activities.

Share ideas and exchange best practices within Collaborative Groups.

Shape the development of the platform through Community Workshops.