Professor Dr. Ebba Ossiannilsson, SVERDs V Ordförande, kommer att vara GO-GNs första talare 2023!
Gå med tisdag 24 januari 2023 kl. 16.00 GMT för att ta reda på mer om Open Leadership for the ecosystem of Open Educational Implementation. Läs mer här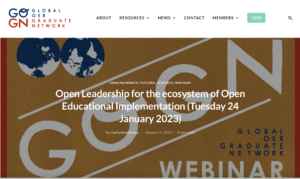 Abstract
The session will focus on open leadership and open collaboration in the ecosystem of openness in education within the frameworks of human rights, social justice, equality, democracy and well-being. The foundation for the open ecosystem is also the SDGs, the futures of education, the new social contract and sustainability, but also on resilience and agility.
Profesor Dr. Ebba Ossiannilsson var vinnare i Open Educational Global i kategorin OPEN LEADERSHIP Läs mer här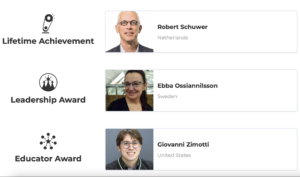 The 2022 winners are ….
Open Education is a human movement that is only possible due to the work and passion of extraordinary people. Every year, Open Education Global is honored to recognize these individuals in the Open Education Awards for Excellence. The 2022 Open Individual winners are:
Lifetime Achievement Award goes to Robert Schuwer at Fontys University of Applied Sciences, Eindhoven, The Netherlands
Open Leadership is awarded to Ebba Ossiannilsson at Swedish Association for Open, Flexible and Distance Education, Lund, Sweden
Open Educator is awarded to Giovanni Zimotti at The University of Iowa, Iowa City, USA
Emerging Open Leader is awarded to Sarah Kresh for her work at CUNY School of Professional Studies, New York, USA
The Support Specialist Award goes to Ewan McAndrew for his work at the University of Edinburgh, Edinburgh, UK