ICDE Leadership Summit är live denna veckan 20-21 januari 2022. SVERDs V Ordförande Ebba Ossiannilsson är en av talarna i session 3 om Innovative leadership for Open Education: the benefits of open access, open source, open science and open educational resources (OER)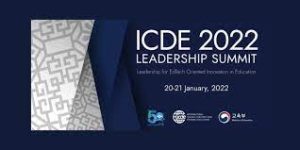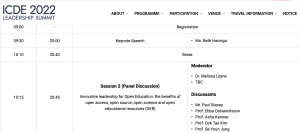 Dates : 20th (Thu) ~21st (Fri) January, 2022
Venue : Conrad Seoul
Format : Hybrid event (Onsite/Livestream, Playback of recorded sessions)
Main Theme : Leadership for EdTech Oriented Innovation in Education
Sub Themes :

Leading open and distance universities to overcome global crisis: sharing experiences in responding to the pandemic hit
Improving quality education using EdTech: sustainable enrollment and personalized learning strategies
Innovative leadership for Open Education: the benefits of open access, open source, open science and open educational resources (OER)
Leadership for digital transformation and resilience: equitable and quality education for all
We welcome you all to ICDE Leadership Summit 2022!
ICDE Leadership Summit  2022  will livestream on the Official website.
If your colleagues want to watch the summit, please pre-registration for the online participation.

After the register, please click the LIVE icon top of the right side of screen then log-in for the live stream or zoom at the event day.
Online registration link: https://icde2022.org/sub03/regist_guide.html