Ulf Sandström, SVERDs Ordförande, Sverige
Ines Gil Jaurena, Spanien
James Branton, Irland
Maria Rosaria, Italien
Covadonga Rodrigo, Spanien
Radu Vasin, Romania (was received at the EDEN Annual Conference in Timsoara, Romania, June 2020, as the Politehnica University of Timișoara, was the conference host.
Senior EDEN Fellows
Airina Volungeviciene, LT
Antonella Poche, IT
Josep M Duart, ES
The purpose of the EDEN Fellow scheme is to provide validation and support to professionals in Europe in this field, and to enhance their mobility within Europe through a respected scheme of recognition. The first Senior Fellow and Fellow Awards were presented at the 2007 Annual Conference in Naples.

The Council of EDEN Fellows has been established which includes all Fellows and Senior Fellows of EDEN – it has an advisory role in the EDEN Community, a think tank for future visioning, and as ambassador of EDEN
Redan den 22 juni 2020 skrev vi på
Sverd.se 
att SVERDs ordförande
Ulf Sandström
var nominerad till
EDEN Fellow
(av EDEN Styrelseledamot Ebba Ossiannilsson). På EDENs styrelsemöte den 19 juni, EDEN Executive Committee, beslutades att alla de nominerade skulle erhålla EDEN Fellowship och EDEN Senior Fellowship 2020. Normalt brukar ceremonin vara under EDENs åriga konferens i juni, vilken i år  var organiserad av EDEN och the Politehnica University of Timisoara, Romania, online under 22-24 Juni 2020. Därför uppmärksammades utmärkelserna EDEN Fellow och EDEN Senior Fellow  först på EDEN Research Workshop i Lissabon,  nu i oktober 2020, som för den delen även var online.
Tidigare EDEN Fellows och EDEN Senior Fellow
Alastair Creelman, Linnaeus University, Sweden, 2017
Ebba Ossiannilsson, Swedish Association for Distance Education, Sweden, 2014
Henrik Hansson, Stockholm University, Sweden, 2007
Carl Holmberg, International Council for Open and Distance Education, Sweden, 2007, Senior EDEN Fellow
Welcome addresses under EDEN RW11
Carla Padrel de Oliveira, Rector of UAb
Sandra Kucina Softic, President of EDEN
---
Presentation of EDEN Fellow and Senior Fellow Awards
Sandra Kucina Softic, President of EDEN, University of Zagreb, Croatia
---
Sounds of the University: Exploring Coimbra's Fado tradition
Leonel Morgado, Associate Professor at UAb, Portugal (Portuguese guitar)
---
Looking Ahead to the Lisbon 2020 Experience, Alan Tait, Rapporteur, och Inés Gil Jaurena, Co-rapporteur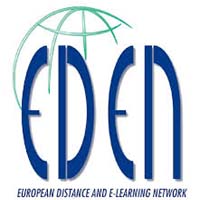 EDEN is the smart network for the professional community and a professional community for smart learning.

EDEN is supported by the ERASMUS+ Programme of the European Union. The publication reflects the authors' view, the EACEA and the European Commission are not responsible for any use that may be made of the information it contains.