Stort grattis till Irène Charbonneau, Stockholms universitet för att vinna EDEN Best Research Paper Award 2020! # eden20 # rw20 #lisbon # EDENchat Universidade Aberta de Portugal Titeln på hennes forskningspaper är: "Social närvaro och utbildningsteknoluogier i en distanskurs online i finsk högre utbildning: ett socialt konstruktivistiskt perspektiv". (Social Presence and Educational Technologies in an Online Distance Course in Finnish Higher Education: a Social Constructivist Perspective).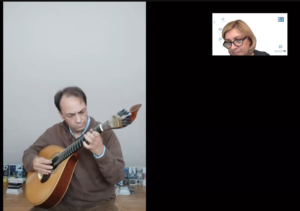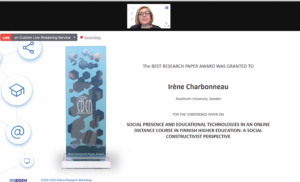 Since 2008, EDEN is continuously granting the Best Research Paper Award at EDEN's Annual Conferences as well as at EDEN's bi-annual Research Workshops. A high quality standard selection process shall guarantee the branding of a distinguished and reputable award for scholarly conference papers in the field of open, distance and e-learning.

The selection process takes place in collaboration with the Ulrich Bernath Foundation for Research in Open and Distance Learning and is supported by a Jury. Members of the Jury for the 2020 EDEN Best Research Paper Award to be granted at the 11th EDEN Research Workshop in Lisbon are Dianne Conrad (Chair), Ph.D., Athabasca University (retired), Canada; Member of the Editorial Advisory Board EURODL; Inés Gil Jaurena, Associate Professor, Faculty of Education, Universidad Nacional de Educación a Distancia (UNED), Spain; Member of the Editorial Advisory Board EURODL; Lina Morgado, Associate Professor, Researcher at LE@D- Distance Education and Elearning Laboratory, Universidade Aberta (UAb), Portugal; Aras Bozkurt, Ph.D., Associate Professor of Distance Education, Anadolu University, Turkey; Ulrich Bernath and Thomas Hülsmann, Directors and Trustees of the Ulrich Bernath Foundation for Research in Open and Distance Learning, Oldenburg, Germany.

Of 45 conference papers submitted and completed by the extended deadline for submissions on September 29th,2020, 10 conference papers were short-listed for the competition and evaluated against the following criteria:
(i) contributes convincingly to the theme(s) of the conference;

(ii) deals with a research question of relevance for conference participants;

(iii) rigorous examination/research methods are applied;

(iv) findings, results and outcomes are convincingly presented and critically examined;

(v) conclusions are thoroughly discussed (including aspects like applicability, transferability, and/or further research);

(vi) literature is reviewed against the state of art.