Den 18 juni kom Europeiska Kommissionen ut med EC Digital economy and society, Education and training. Läs mer här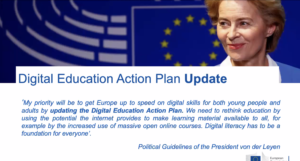 Det för en unik möjlighet att deltaga i den här konsultationen och enkäten kommer att vara tillgänglig på de officiella EU språken. Idag på EDENs årliga konferens  var Kommissionär Georgi Dimitrov huvudtalare och berättade om konsultationen. Se några screenshot lögner ner i blogposten.
The questionnaire will become available in all official EU languages by 9 July 2020.

All interested citizens and organisations are welcome to participate in this consultation. In particular, the consultation seeks the views of learners, educators, education staff, parents/carers/family members of learners, as well as representatives of education and training institutions. Governmental and non-governmental organisations (international, European, national, regional and local) as well as representatives from the public sector and industry are also encouraged to respond. Individuals under 18 years of age are asked not to respond to the consultation themselves, but to refer to a parent/carer/adult family member to respond and reflect their experience.