Dugga Assessment recognized as the winner of Microsoft Education Partner of the Year 2020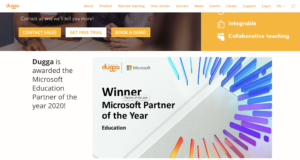 DUGGA är en av SVDERDs medlemmar och vi gratulerar till utmärkelsen. STORT GRATTIS och SÅ VÄLFÖRTJÄNT
DUGGA har också gjort stora insatser under COVID-19 pandemin. Grattis till det också
Swedish Edtech company Dugga Assessment today announced it has won Microsoft Education Partner of the Year Award 2020. The company was honored among a global field of top Microsoft partners for demonstrating excellence in innovation and implementation of customer solutions based on Microsoft technology. Läs mer här
"Dugga has worked closely with Microsoft on significant opportunities, including our selection as Microsoft Teams' partner to enable all types of exams and assessment in Teams", stated Dr. Claudia Rademaker and Dr. Patrik Nilsson, Dugga's founders and VP's.
Moreover, Dugga is currently used in over 60 countries and enables remote assessment for the continuation of education worldwide during school closures because of Covid-19.
"The Dugga assessment platform, built in Microsoft Azure with features such as Immersive Reader, is making a big impact on O365 and Teams activations while helping transform knowledge assessment to increase quality in learning around the world", adds Maria Gårdlund, CEO of Dugga.