SVERD är medlem i EDEN för att dela erfarenheter och samarbeta med övriga distansutbildare inom EU.
Det handlar om ny forskning, stärkta nätverk och projektskapande aktiviteter inom området ODL Open and distance learning som stöds av EDEN nätverket.
Representant i EDEN från Sverige är Ebba Ossiannilsson SVERDs vice ordförande. Hon valdes in i styrelsen på EDEN konferensen 2015 i Barcelona.
Den årliga EDEN konferensen sker den 13 -16 juni i Jönköping.
Välkommen till EDENs årliga konferens som 2017 arrangeras av Jönköping University!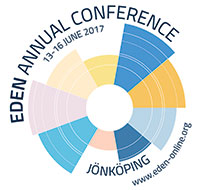 EDEN-konferensen är mötesplatsen för dig som är forskare eller yrkesverksam inom e-lärande och distansundervisning. Här kan du utbyta kunskaper och erfarenheter med kollegor från hela världen.
Läs mer on konferensen på EDEN hemsida här
Om EDEN på engelska
The European Distance and E-Learning Network exists to share knowledge and improve understanding amongst professionals in distance and e-learning and to promote policy and practice across the whole of Europe and beyond.
With more than 200 institutional members and over 1200 members in the Network of Academics and Professionals (NAP), EDEN assists a wide range of institutions, networks and individuals to become involved in professional information and networking activities. It does so through the organisation of acknowledged European conferences, its publications and information services, and by taking an active role in a wide range of important EU projects. EDEN has also proved successful with thematic activities such as the Open Classroom Working Group (school level distance education), and by contributing to, and promoting, 'cutting edge' research in the field. In addition, EDEN has also provided extensive secretarial support to the European Journal of Open, Distance and E-Learning (EURODL).
Link to EDEN webpage