Varmt välkomna till Jönköping tisdag den 13 juni och deltag på SVERDs Förkonferens
"Digital transformation and diversity in a Swedish Context "

inför EDEN 2017.
Evenemanget genomförs på engelska och anmälan är nu öppen. Program till förkonferensen kan laddas ner nedan. Deltagande i förkonferensen är ej avgiftsbelagd. Välkomna !
DIGITAL TRANSFORMATION AND DIVERSITY IN A SWEDISH CONTEXT
Room Hc218 "Digital Transformation And Diversity In A Swedish Context" organised by
Swedish Association for Distance Education (SADE)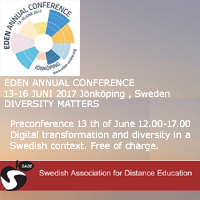 Download program here !
_
The pre- conference will take part within the research environment CCD at the School of Education and Communication, Jönköping University with the support of Destination Jönköping.
Time: Thuesday 13th January 2017 12.00pm- 17.00pm CET
Venue: Jönköping University, room to be confirmed
Gjuterigatan 5, 553 18 Jönköping, Sweden
The pre- conference is hosted by SADE, the Swedish  Association for Open and Distance Learning, and is free of charge
Contact SADE
Ulf Sandstrom  ordforande@sverd.se
Ebba Ossiannilsson  ebba.ossiannilsson@gmail.com